English Hubs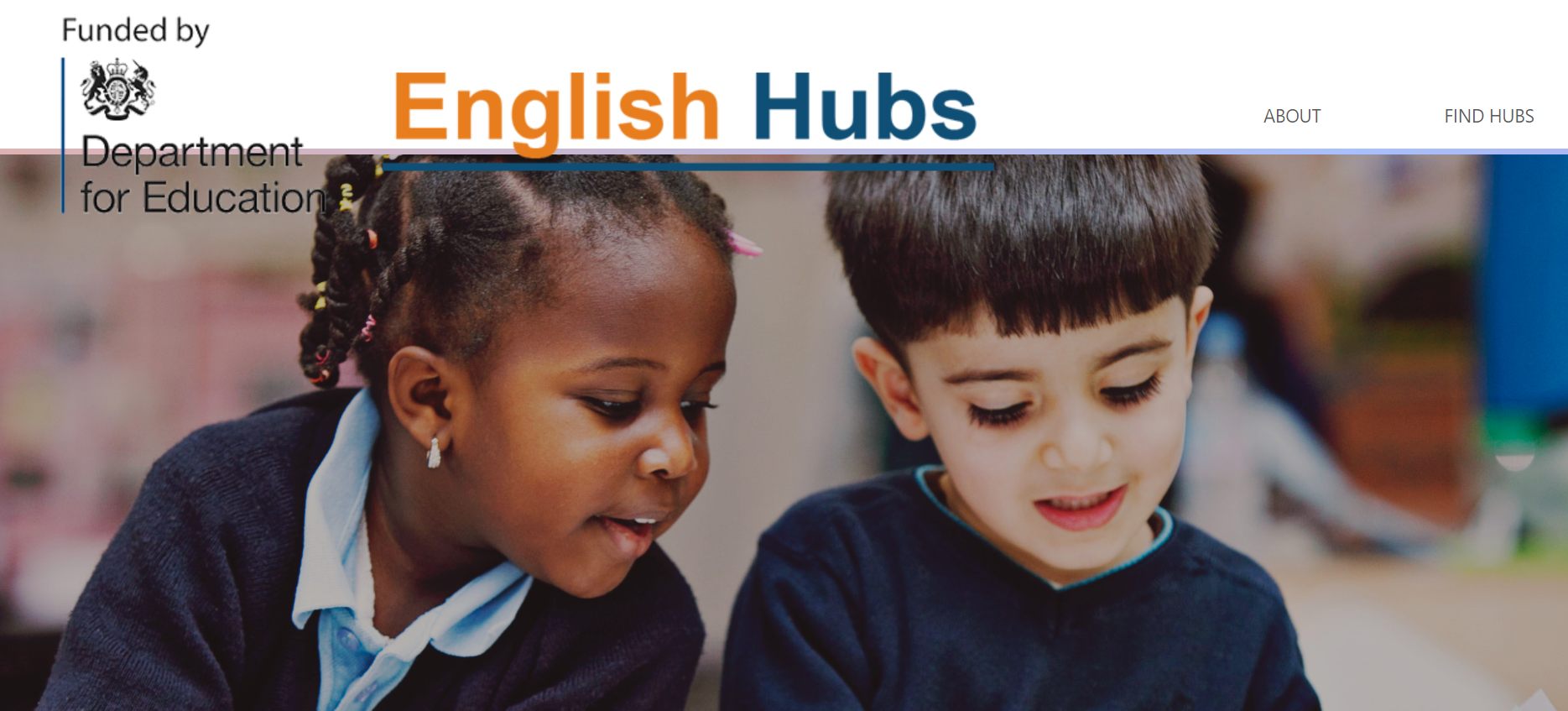 ENGLISH HUBS
34 English Hubs were selected for their expertise in teaching reading and to support schools in their surrounding area. Hubs will promote a love of reading and help schools provide excellent teaching in phonics and early language. They will focus on supporting the slowest progress children in Reception and Year 1 and ensure every child is successful, regardless of background, needs or abilities.
WHAT ARE ENGLISH HUBS?
English Hubs offer support to local schools, academies and free schools to improve the teaching of phonics, early language and reading in Reception and Year 1.
Each English Hub has a Hub lead and Literacy Specialists and may offer:

Hub leads and Literacy Specialists receive training and ongoing support from the English Hubs Training Centre.
The English Hubs Council, including leading phonics experts and headteachers, provide a strategic overview of the English Hubs Programme and the work of the Training Centre.
FIND YOUR LOCAL ENGLISH HUB
The Teaching School Hub region's English Hubs are:
englishhub@springhillcatholic.net
Springhill Catholic Primary School is one of the DfE appointed 34 English Hub schools across England to support other schools, to deliver excellent early language and phonics teaching in reception and Key Stage 1.
Any school can request support from an English Hub. However, if there is more demand than capacity, hubs will select schools to receive support based on the school's capacity to improve, the level of need for support and the level of disadvantage of the children at the school.
The support that Springhill English Hub will provide, to those that meet the criteria, includes:
Two free places, per school, at showcase events, including supply cover costs, this is criteria dependant.
A review of action planning following attendance at a showcase event.
A full audit of a school's early language and phonics provision carried out by one of the hub team and support with further action planning.
Potential funding of up to £6,000 per school to invest in resources and training. This may be match funded or fully funded depending upon the circumstances of the school. Resources must meet certain criteria.
Up to six days of intensive school-to-school support led by one of our experienced literacy specialists over the period of a year, if chosen to be a partner school.
Medium level support through online webinars and training.
Showcase Events
Springhill showcase events will include:
1. Observing phonics in action on a normal school day
2. A question and answer session
3. A presentation on action planning, implementation, organisation and
progress
4. How to choose and use resources effectively
5. Opportunities to meet individually and discuss action planning
Please refer to the Registration form for dates of events.
Venue details
Springhill Catholic Primary School,
Milton Road,
Southampton, SO15 2HW
If you are interested in a Showcase Event, please request a booking form by emailing:
englishhub@springhillcatholic.net
hubadmin@whiteknightsenglishhub.org.uk
Whiteknights will be working with eligible schools in the south of England to assess their phonics provision, select and purchase a validated SSP programme. To apply for this support please complete this FORM.
As an English Hub they can support schools in a variety of ways:
Invite schools to view best practice in action at our showcase events;
Review and refine action plans;
Carry out school-based audits of early language and reading provision;
Offer bespoke in-school support run by our team of literacy specialists; and
Fund or match fund schools to buy resources including commercial phonics packages and training.
You can register your interest here:
https://www.whiteknightsenglishhub.org.uk/our-offer/register-your-interest/