Language Hubs (NCELP)
The National Centre for Excellence for Language Pedagogy (NCELP) was set up in December 2018. It works in partnership with university researchers, teacher educators and expert practitioners, and Specialist Teachers in Leading Schools across the country acting as language hubs, to improve language curriculum design and pedagogy, leading to a higher take up and greater success at GCSE.
NCELP are funded by the Department for Education (DfE) and co-directed by The University of York and The Cam Academy Trust.
Their substantial package of support includes professional development tools, teaching resources, and workshops, and takes forward the recommendations made in the Teaching Schools Council's Modern Foreign Languages Pedagogy Review led by headteacher and linguist Ian Bauckham, and ensures they are achievable and effective in schools.
NCELP aim to:
Connect classroom practice and research
Develop pedagogy, with resources to deliver it
Improve intrinsic motivation and increase GCSE uptake
The content below provides a glimpse at the NCELP website. It is really worth a visit!
NCELP LANGUAGE HUBS
NCELP drive, support, and monitor the work of a national collaborative network of MFL teachers and their schools to raise the standards of language teaching through the development of teaching resources, assessments, and professional development.
There are 18 Specialist Teachers in nine Lead Schools, each working with four local Hub schools (45 schools in total), as well as with a wider network of a further 90 schools linked to the Hubs.
The Language Hub School Network
LANGUAGE HUB SCHOOL NETWORK
There are nine Language Hubs, each containing a Lead School working with four local Hub Schools. Follow the links below to the schools' websites.
Free CPD Courses for MFL Teachers
FREE CPD COURSE: MFL CURRICULUM DESIGN AND PEDAGOGY FOR KS3 AND GCSE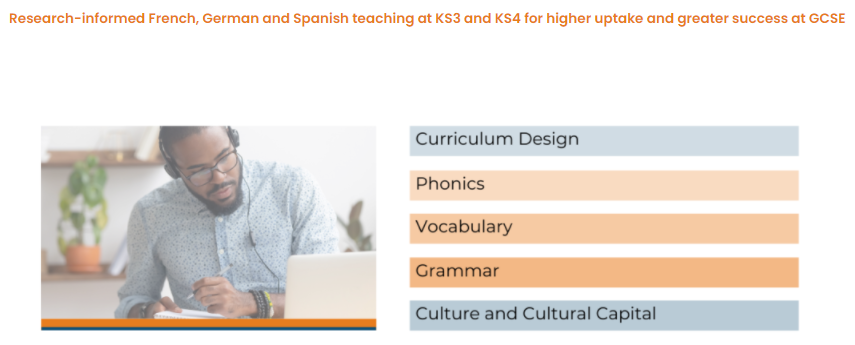 Our FREE CPD course will offer an unparalleled opportunity for teachers to develop a comprehensive understanding of the 2016 MFL Pedagogy Review recommendations, providing a springboard for any curriculum and pedagogy development planning in light of the new subject content for GCSE French, German and Spanish and are running across three terms in the 2022 calendar year. The course is in line with the:
2016 MFL Pedagogy Review recommendations
2021 Ofsted research review
New Subject Content for French, German and Spanish GCSE – for first teaching in 2024 with first exams in summer 2026.
The course is free to attend and will consist of five 2.5 hour remote learning sessions over one term complemented by online peer and instructor support.
Applications are currently open for the Summer Term Courses beginning in week commencing 25 April or 2 May. You will be successfully admitted to register for a course if:
You are involved in Modern Foreign Language education (and can cascade course content to MFL colleagues, including to in-service and/or pre-service teachers or trainees).
You are:

EITHER working in an eligible school in England (that teaches French and/or German and/or Spanish) – schools that receive public funding from the government are eligible.
OR a state-funded university-based or SCITT-based teacher trainer providing courses to secondary pre-service teachers or trainees in French and/or German and/or Spanish teaching.
For Summer term 2022, this includes:
Practising teachers in state schools (any number of teachers can apply from a single school – but numbers may be restricted if demand is very high)
Unqualified practising teachers
Secondary school advisors/consultants (employed by a school, an academy trust or a local authority to support state schools)
Teacher trainers
The course is designed for those new to NCELP approaches, though it would also suit participants who want to develop their understanding further (for example teachers who have already adopted NCELP Schemes of Work).
An online self-study version of all modules will be available in 2022 and open to all.
Applicants should download and read the pre-application guidance notes, terms and conditions for the course and the privacy notice before completing the online application form, links below.
The deadline for Summer Term applications is midnight on Monday 21 March 2022.
NEW Free PD Available from Language Hubs (January 2022+)
The National Centre for Excellence for Language Pedagogy (NCELP) has just released details of its CPD offer, with courses starting in January 2022: www.ncelp.org/cpd. NCELP is encouraging schools to register their interest now ahead of applications opening.
Research-informed French, German and Spanish teaching at KS3 and KS4 for higher uptake and greater success at GCSE
Five free 2½ hour remote learning sessions over one term, complemented by online peer and instructor support
Phonics: Unlock the many benefits of phonics: help pupils learn the sound system, sound out accurately, develop confidence in production and much more.
Grammar: Approach grammar in three phases: explanation, practice in understanding, and practice in production - to allow learners to use grammar quickly.
Curriculum Design and Assessment: Develop Schemes of Work and assessments to best support early stages of language development in our low exposure foreign language setting, aligned to the proposed GCSE MFL subject content.
Meaningful Practice: Understand the meaningful (as opposed to mechanical) practice that learners need: purposeful, frequent, varied (in mode and modality) and incremental.
Places are free but will be limited. Applications will open in 2021 for afternoon or twilight courses running in 21/22 Spring, Summer and 22/23 Autumn Terms. Schools will be asked to nominate one teacher to apply to attend, typically Head of Department or Trust Subject Lead. An open-access online self-study course will also be available for all.
✓ Research-informed approach as set out in MFL Pedagogy Review
✓ Accompanied by free resources for KS3 and (forthcoming) KS4
✓ Aligned with proposed new GCSE
✓ Aligned with Ofsted Framework
✓ Aligned with Early Career Framework
✓ Aligned with Rosenshine Principles
Archive
Training that has been delivered (or will be delivered again in the future but have no current dates) are listed below
National MFL Conference (Inside Government) - Online, 19th and 20th October, 2021
NATIONAL MODERN FOREIGN LANGUAGES CONFERENCE (INSIDE GOVERNMENT)- ONLINE 19TH AND 20TH OCTOBER 2021
Sequencing and Delivering a Content-Rich Curriculum, Emma Marsden, Director, 19th October.
This session will offer an update on the resources being developed by the NCELP for teachers to engage with research-informed practices.

Key updates will include:

How phonics, vocabulary and grammar content can support enriching lessons
Lexical selection for curriculum design and assessment: Current and future GCSE Subject Content
Differentiating and adapting NCELP resources
Testimonials from teachers using NCELP resources

Interactive Workshop: Learn Today, Teach Tomorrow, Rachel Hawkes, Co-Director, 20th October.
This session will offer practical ideas and teaching techniques for you to takeaway and implement in your classroom straight away. Ideas shared will cover key elements including:

Grammar
Vocabulary
Phonics
More information on the conference website.
Email: enquiries@ncelp.org
Tel: 01904 ​328159