Exciting announcement - National Institute of Teaching launched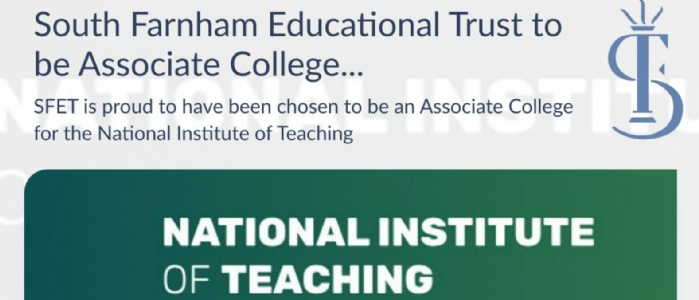 Today, England's new flagship National Institute of Teaching (NIoT), has been announced and we are delighted to let you know that South Farnham Educational Trust is one of their 12 founding Associate Colleges.
The NIoT will formally open in September 2022. It will boost teacher and leader development delivering training for ITT trainees, Early Career Teachers, mentors, NPQ participants and the new NLE programme for established system leaders.
The NIoT will be run by the School-Led Development Trust (SLDT), founded by the Harris Federation, Outwood Grange Academies Trust, Oasis Community Learning and Star Academies. Critical to the design and delivery of NIoT programmes will be the regional 'Associate Colleges' and we are proud to be the Associate College and Delivery Partner for the London and South-East campus. We will be joining a network of 11 other school trusts which span the country as well as a consortium of specialist partners.
Our trust has long been at the forefront of ensuring outstanding practice is shared across the system, supporting our country's teachers to be their very best and so students receive the education they deserve. Empowering the profession through world-class, evidence-based teacher development from initial training to system leadership, with the potential to benefit generations of children, is perfectly aligned with our mission.
The new NIoT has a number of inherent strengths. It will be school-led and have a team of school-based experts who understand what happens in the classroom. It will have scale, reach and a track record of success across the country, including in the most disadvantaged communities. It is committed to being evidence-led and to evaluating its contribution to teacher development.
We are very excited at the positive impact that our team at South Farnham Educational Trust, SFET Teaching School Hub and South Farnham SCITT will be able to make at a national level and for children and young people across the country.