Become a Regional Ambassador School Today!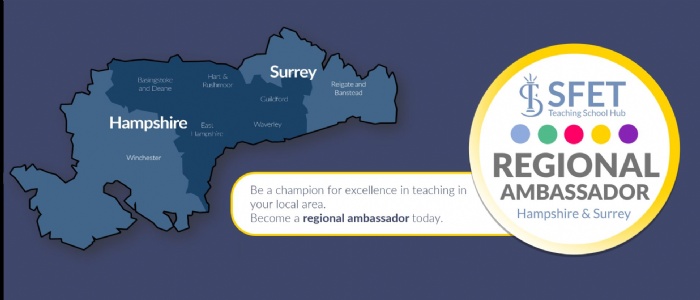 SFET (Success for Every Teacher) Teaching School Hub are seeking ambitious and talented teachers and leaders to help roll out the most exciting educational reforms in a generation. Be part of the Regional Ambassador Schools movement and help shape our work across Hampshire and Surrey.
By working together with you, we will improve teacher development for all teachers and leaders ensuring access to support, research and career long, high quality continual professional development.
We work alongside organisations including curriculum hubs, research schools, universities, SCITTs, School Direct partnerships, subject associations and outstanding school-based training providers. We aim to shine a spot light on the excellence that is on offer across our hub area (Guildford, Rushmoor, Waverley, Hart, East Hampshire, Basingstoke and Deane) to ensure that all teachers and leaders can benefit from the very best of regional and national practice.
Our Regional Ambassador Schools are creating a movement, spreading awareness of the new landscape and sharing their excellence. Teachers are the foundation of the education system. The Government's 'golden thread of teacher development' allows Teaching School Hubs to deliver a world-class system for teachers and school leaders at every stage of their career by transforming their training and support.
We are delighted to have been designated as the Teaching School Hub for your area. If you are interested in joining our partnership of Regional Ambassador Schools, please contact us by emailing tshub@sfet.org.uk.