AB Consultation and Reforms
On 15 November 2022, the Department for Education published the response to the appropriate body reform and induction assessment consultation that ran from 26 May to 21 July 2022.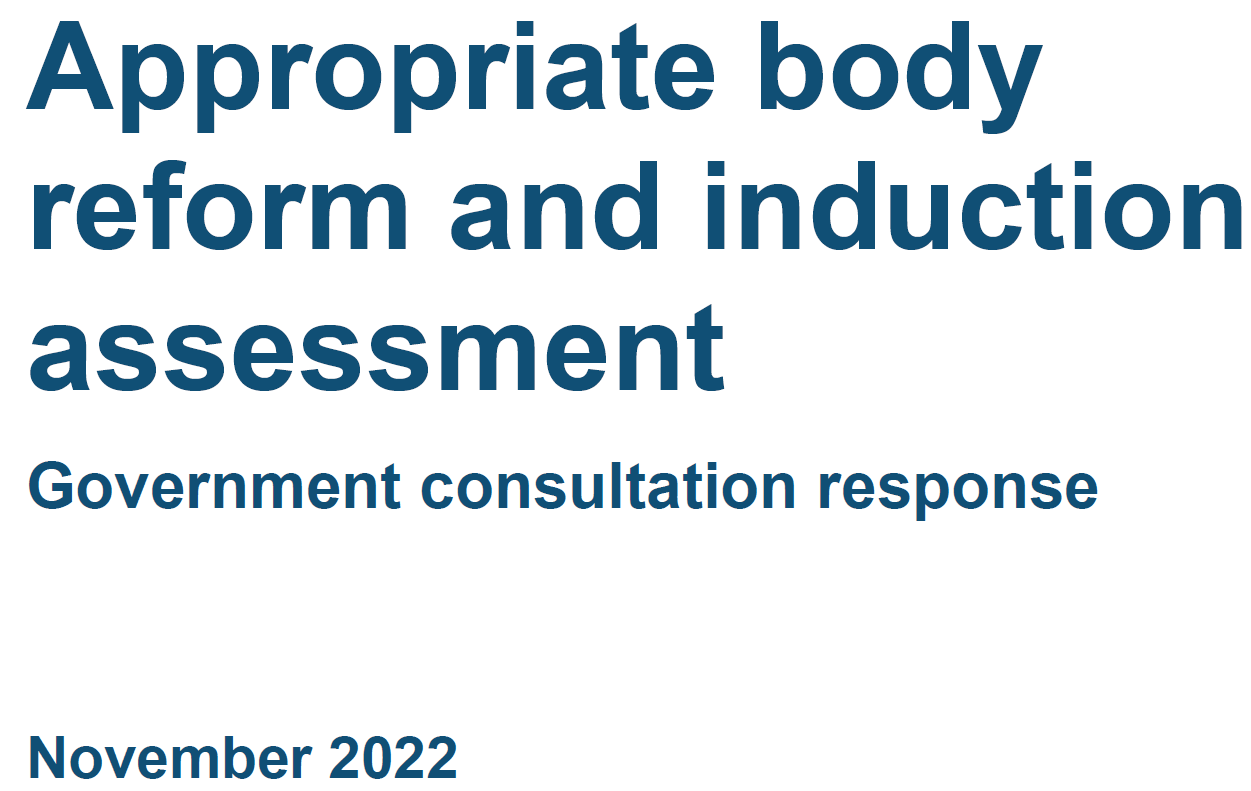 The consultation sought views on three areas:
How ABs can perform their role effectively. This focused on the systems in place for statutory induction including checking entitlements and supporting ECT progress, as well as any barriers that ABs face in carrying out their role effectively.
Induction assessment process. This focused on how far the assessment process during induction adds value to ECTs, schools and the profession more broadly.
Reforms to who can operate as an AB. This focused on the transition period of transferring the role of AB from local authorities to teaching school hubs (TSHs), including proposed timescales for the transition and any challenges that organisations would face because of these reforms.
Teaching School Hubs (TSHs) will become the main providers of Appropriate Body (AB) services and Local Authorities (LAs) will no longer carry out this role.
LAs will NOT be able to claim new ECTs after 31 Aug 2023 but are able to offer AB services until 31 Aug 2024.
If your AB service is provided by a local authority, you have two options for 2023/24:
SFET is working proactively with the local authority to ensure this transition is managed effectively for the benefit of schools, teachers and, most importantly, children.
We currently provide Appropriate Body and Early Career Framework services to over 300 schools across Hampshire and Surrey; our Primary and Secondary programmes run separately to ensure phase specific training and support with each phase supported by outstanding phase specific school-led delivery partners across the region. Our team includes primary, secondary and special school practitioners and leaders who understand the demands on staff workload at all levels of the organisation.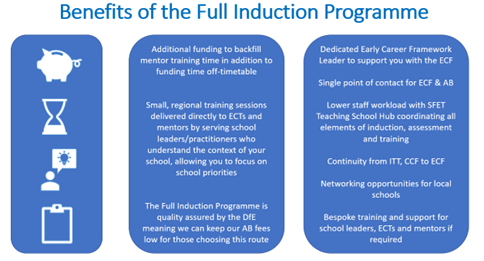 Whilst Appropriate Body and Early Career Framework services can stand alone, together they provide a fully complementary package to enable schools to meet the needs of early career teachers and their mentors. We understand the induction reforms in their entirety, as well as the demands of school life, and are well-placed to ensure that your school has everything that it needs to induct your ECTs successfully.
Let SFET Teaching School Hub Appropriate Body support you - we work with schools to ensure a smooth transition for ECTs joining mid-year or joining for Year 2.
Being school led, we know the pressures on school budgets which is why we recommend our 'Full Early Career Induction Programme' incorporating both our Appropriate Body service and Early Career Framework for only £150 per ECT p/a.

If you have any questions, please don't hesitate to contact us. Our dedicated team is on hand all year to respond to any questions you may have – just pick up the phone or pop us an email. We look forward to working with you.
The full outcome of the consultation can be read here.