Computing Hubs
Our vision is for every child in every school in England to have a world-leading computing education.
What are Computing Hubs?
Computing Hubs aim to transform the way computing is taught in schools across the country – and enable more young people to benefit from studying this important subject. Through this, their skills and career opportunities will be enhanced.
Computing Hubs are led by schools and colleges across England with an exceptional track record in teaching computing. They deliver face-to-face courses and provide local support for teachers in primary and secondary schools in their area.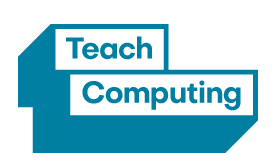 Where is your local Computing Hub?

How to contact your local Computing Hub
You can contact each of the regional curriculum hubs by following the links below (click on the logo):
For the most up-to-date news and events, please click on the logos above to go to your local hub's website. Alternatively, click here for our events calendar.
Computing Hub resources, support and training for schools
Computing Hubs have provided a full curriculum that contains everything you need to teach computing at key stages 1 to 4, including lesson plans, slides, worksheets, homework and assessment.
All the content is completely free to access, and has been created by subject experts, based on the latest pedagogical research and teacher feedback. It also provides an innovative progression framework where computing content (concepts, knowledge, skills, and objectives) has been organised into interconnected networks called learning graphs. You can get an overall view of progression using the curriculum journey poster, or download individual key stage curriculum maps for more detail (click on the image below to access this):

Loan of physical kit for your school
NEW IN! Physical Computing Kits:
Looking to teach physical computing in your classroom next year but not sure where to start? Do you need free guidance, training, and access to the latest physical computing equipment? Get your hands on the latest technology and help your students learn how to build physical projects that are controlled with computers. All for free!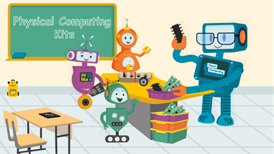 What is physical computing and how will it help me teach?
Physical computing means interacting with real-world objects by programming them with a computer. You can fulfil many areas of the computing curriculum at all key stages through physical computing, from the development of programming skills to more conceptual learning.
NCCE Hubs have physical computing kits in the form of classroom trays with either Crumble (×17 per tray), micro:bit (×17 per tray). Each tray contains a classroom's worth of devices, along with all the peripherals (such as LEDs, motors, wheels, and cables) needed to complete exciting units from the Teach Computing Curriculum.
Computing Hubs can provide your school with hardware help for the teaching of coding and computer-related subjects.
The hubs have class sets of the following devices available with all the peripherals you will need to teach a unit from the teachcomputing curriculum for loan:
The hubs can also provide CPD on how to use the physical kits. Please contact your local hub using the contact details provided above or use the form(s)/contact details below:
Langley Grammar School Hub in Slough (for schools in most of Berkshire and parts of northern Surrey) - click here

Bohunt School Hub (for schools in West Sussex and Hampshire). Contact the team to book a chat, demonstration and/or set of kits: teachcomputing@bohunt.hants.sch.uk

Park House School Computing Hub (for schools near or in Berkshire). Contact the team (pmarshman1@parkhouseschool.org) or click here.
More information can be found at Teach Computing.
Needs analysis/health check service for your school
The hubs can complete a one-hour review of your computing provision in your primary or secondary school and help you develop your computing curriculum through a needs analysis.
Take the opportunity to have a 'Health check' where they can find out more about the delivery of computing in your school.
The hubs can generate a report that will identify how you can utilise the wider range of free support that they provide, including; CPD, mentoring, coaching, and resource lending.
Langley Grammar School Hub in Slough (for schools in most of Berkshire and parts of northern Surrey) - click here
Bohunt School Computing Hub - professional development opportunities and events
In addition to these courses, West Sussex & Hampshire Computing Hub have a training course for the Computing Quality Framework available on request. For more information on this, schools can contact Susie McAuley at teachcomputing@bohunt.hants.sch.uk
GREAT DEVELOPMENT! Subject Knowledge Certificate: Computer Science Accelerator
GREAT DEVELOPMENT! Subject Knowledge Certificate:
Computer Science Accelerator is a professional development programme for teachers, funded by the Department for Education, leading to a national certificate in computer science subject knowledge.
The programme will help you develop or refresh your subject knowledge up to GCSE, with bursary funding available for state-funded schools and colleges to support your learning.
Who is eligible?
current and aspiring computing teachers
suitable for all abilities, from little or no experience in teaching computer science to experienced teachers looking to deepen their subject knowledge
Click to choose your pathway:
Archive
Training that has been delivered (or will be delivered again in the future but have no current dates) are listed below.
Safer Internet Day 2022 (8th February)
Online Safety Webinar
Ofsted Deep Dive: How to prepare webinar