Intensive Training and Practice
Department for Education guidance states:
Intensive Training and Practice should consist of delivery of 3 to 5 carefully selected pivotal or foundational aspects of the planned training curriculum. Many of these are likely to relate to areas of the CCF, but it will be for providers to exercise their judgement about which areas will be most appropriate for their training curriculum.
During Intensive Training and Practice, providers should ensure trainees are given the opportunity to intensify the focus on these foundational aspects of the ITT curriculum; benefit from immediate and targeted feedback focused on improvement; and access appropriate expert support.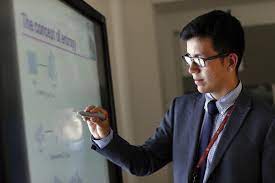 Intensive Training and Practice is not a school placement and therefore does not all have to take place in a school. Many elements of the Intensive Training and Practice can be held in the training centre or virtually, e.g., recorded lesson observations. If components of Intensive Training and Practice take place in a trainee's general placement school, this experience must be additional to, the placement itself.
During Intensive Training and Practice, providers should ensure that trainees observe and reflect upon expert practice in specific aspects of the trainee curriculum. They should be supported to understand exactly what it is that makes such practice effective and to think about how it could be embedded in their own teaching. Trainees should then have the opportunity to apply what they have learnt through, for example, rehearsal and/or live practice, receiving constructive feedback from expert colleagues. The intention is to consolidate trainees' understanding of how the research evidence underpinning the ITT curriculum should shape teaching practice. Use of Intensive Training and Practice should increase coherence between theory and practice.
Providers have the freedom to decide the best way to deliver Intensive Training and Practice, including how the days spent on this element are configured, providing that courses are designed to ensure the full entitlement of 4 weeks (20 days) for postgraduate courses and 6 weeks (30 days) for undergraduate courses. This element does not need to take place in one block and can be divided across the programme, however a provider sees fit.
For trainees on salaried routes, providers may find it more practical, or more appropriate to their curricula, to arrange Intensive Training and Practice to take place in their main school placement or in their second school placement. Overall, providers need to ensure that ITT courses are designed to provide trainees on post graduate courses with 120 days of school placement across two schools, and that a distinct 4-week (20 days) Intensive Training and Practice element occurs in addition to those 120 days.
Research by the National Institute of Teaching
The National Institute of Teaching has published the findings of an important new study evaluating Intensive Training and Practice.
Calum Davey, Executive Director of Research and Best Practice at the NIoT, said:
"We want to share what we learned in the hope of being useful, by providing real-world examples of ITAP and offering considerations we hope to save ITT providers and schools time, money, and effort, and contribute to more effective ITAP designs."
Read full report here with a useful summary here.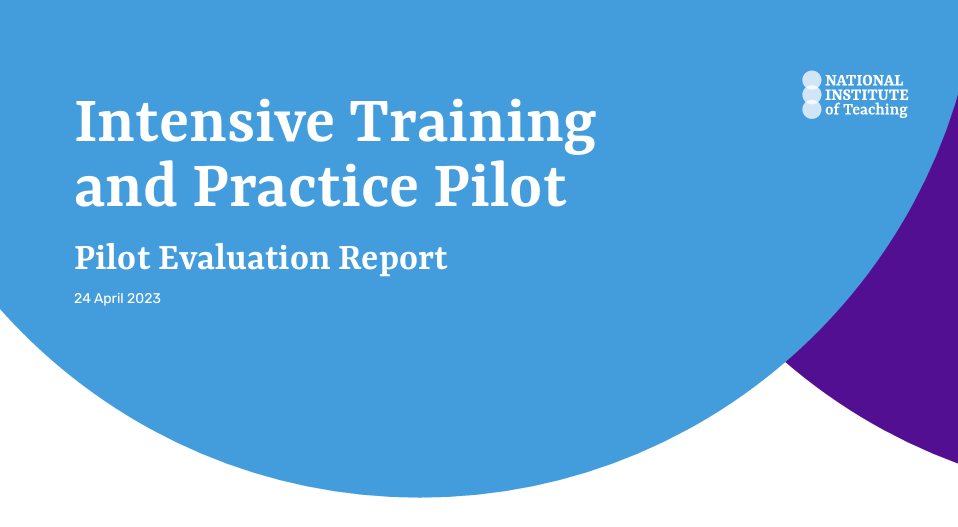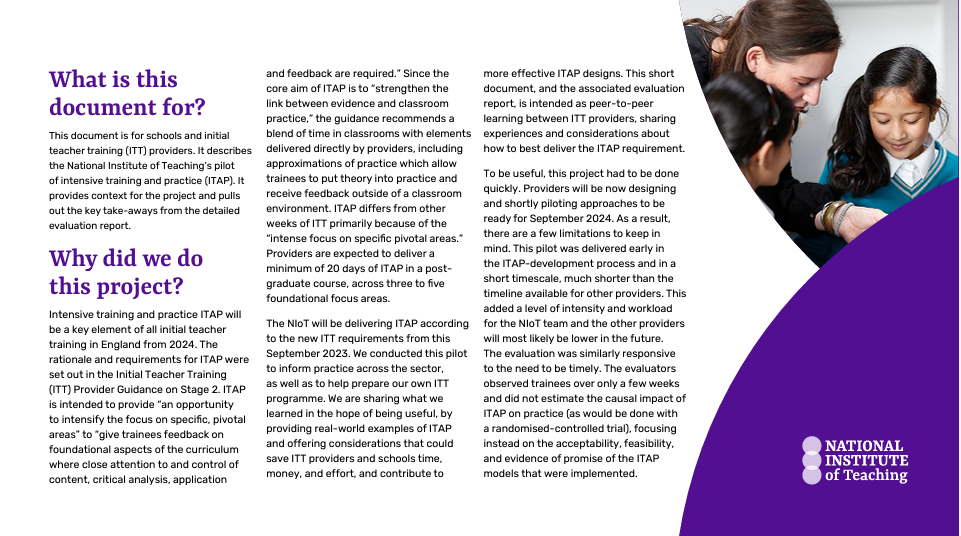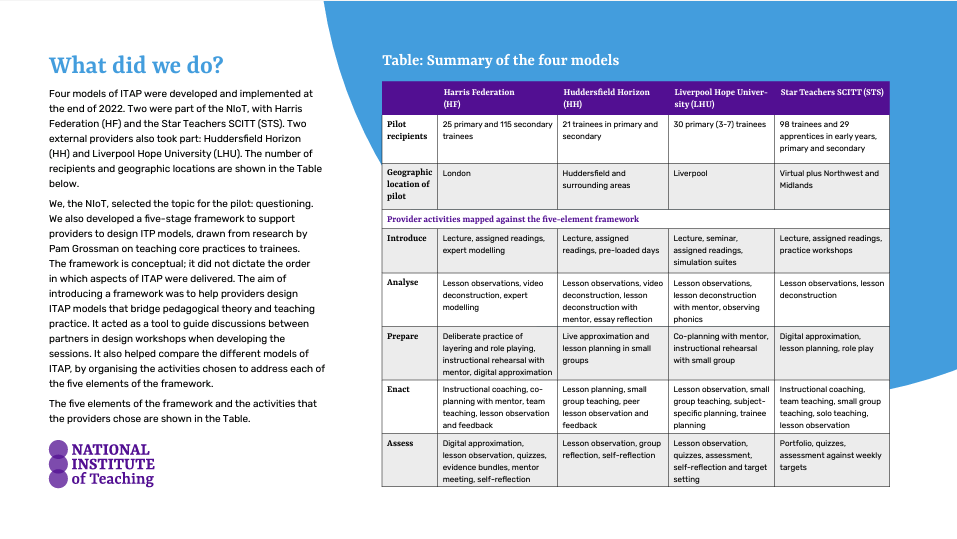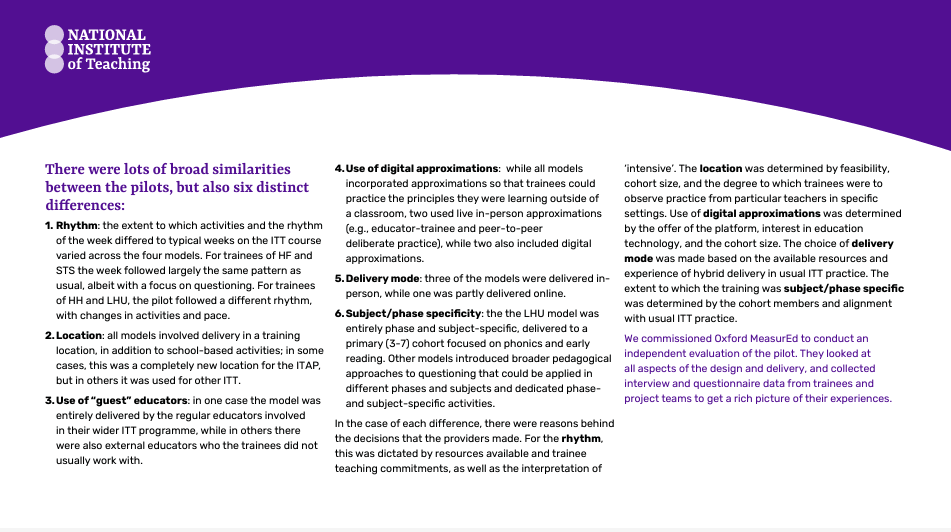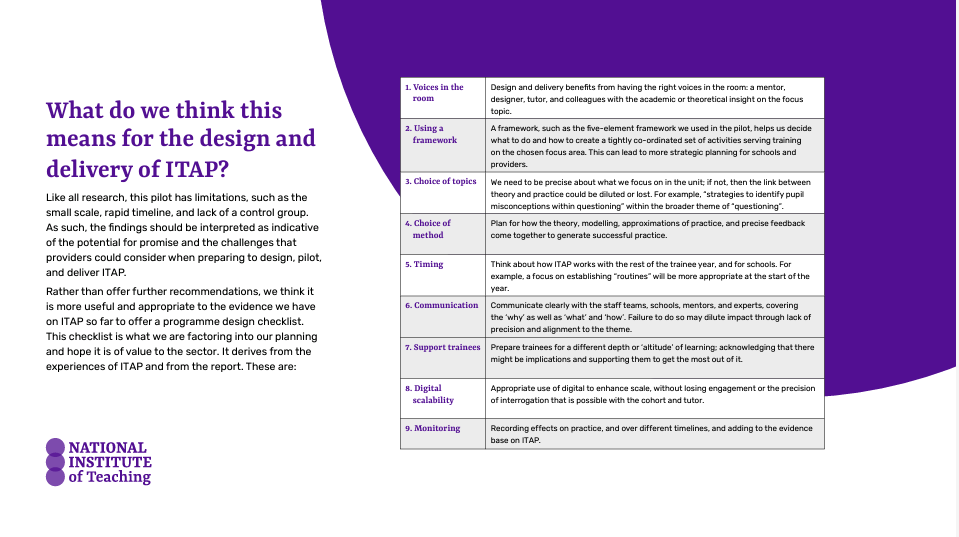 To read more, download the full document here.