National Professional Qualifications (NPQs)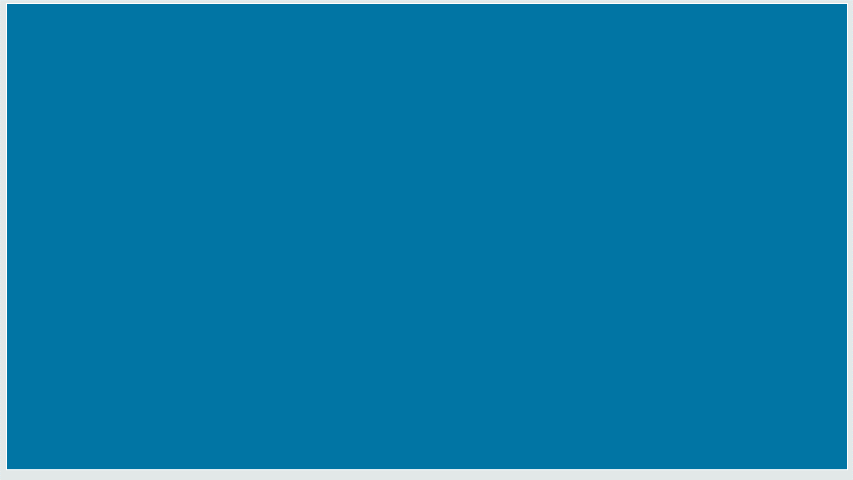 Reformed National Professional Qualifications (NPQs)
In September 2021, a reformed suite of national professional qualifications (NPQs) became available for teachers and leaders who want to develop their knowledge and skills in school leadership and specialist areas of teaching practice.
The three previous NPQs in Senior Leadership, Headship and Executive Leadership were refreshed, ensuring that they are now underpinned by the latest evidence. Similarly, the previous Middle Leadership NPQ was replaced with three new specialist NPQs to best address the broad range of responsibilities of current and aspiring middle leaders. These specialist areas cover:
In September 2022, two additional NPQs were also launched: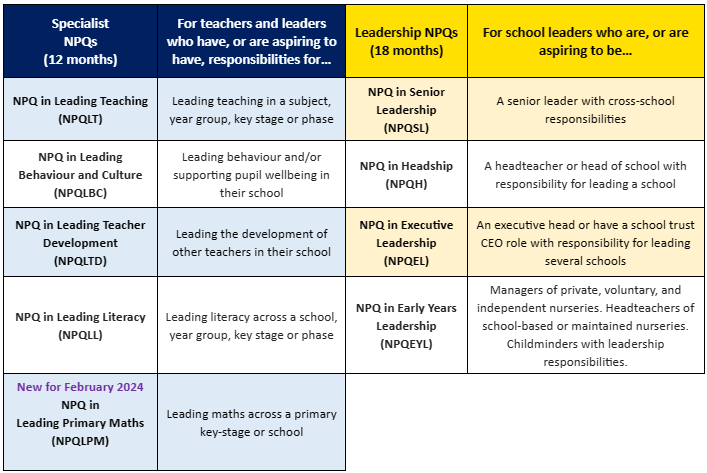 We are delighted to announce two additional NPQs which will commence in February 2024 and September 2024 respectively:
National Professional Qualification in Leading Primary Mathematics (NPQLPM): for Primary teachers and leaders with responsibility for leading mathematics across a key-stage or school, or those who want to have this responsibility. Funding to cover the course fees is available if you're a teacher or leader employed in state funded primary school and you have a secure understanding of mastery approaches to teaching maths from the Teaching for Mastery programme, or equivalent programme.
National Professional Qualification for SENCOs (NPQ for SENCOs): In the SEND and Alternative Provision Improvement Plan (SENDAP IP), published in March 2023, the DfE announced the commitment to create a new National Professional Qualification for Special Educational Needs Co-ordinators (NPQ for SENCOs) to replace the existing National Award for SEN Co-ordination (NASENCo) as the mandatory qualification for this role. This will become the mandatory qualification for SENCOs from September 2024, with teaching beginning in Autumn 2024. The three-year window to complete the mandatory qualification upon taking up a SENCO post will remain following the introduction of the NPQ for SENCOs. The full NPQ for SENCOs framework has now been published and can found here: National professional qualifications frameworks - GOV.UK (www.gov.uk)
The NPQs are in important aspect of the government's golden thread of teacher and leader development: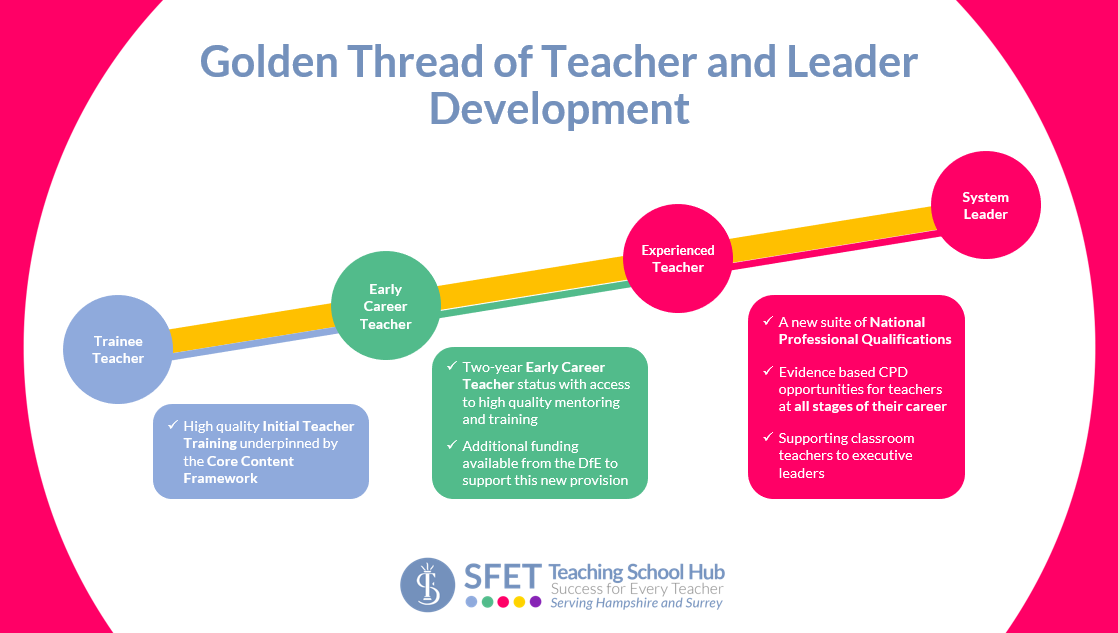 SFET Teaching School Hub is delighted to announce delivery of the new specialist NPQs and reformed suite of leadership NPQs in partnership with STSN and Teach First. This partnership brings together the best local knowledge and context with the experience and programmes of Teach First.
Click here to see our latest NPQ brochure.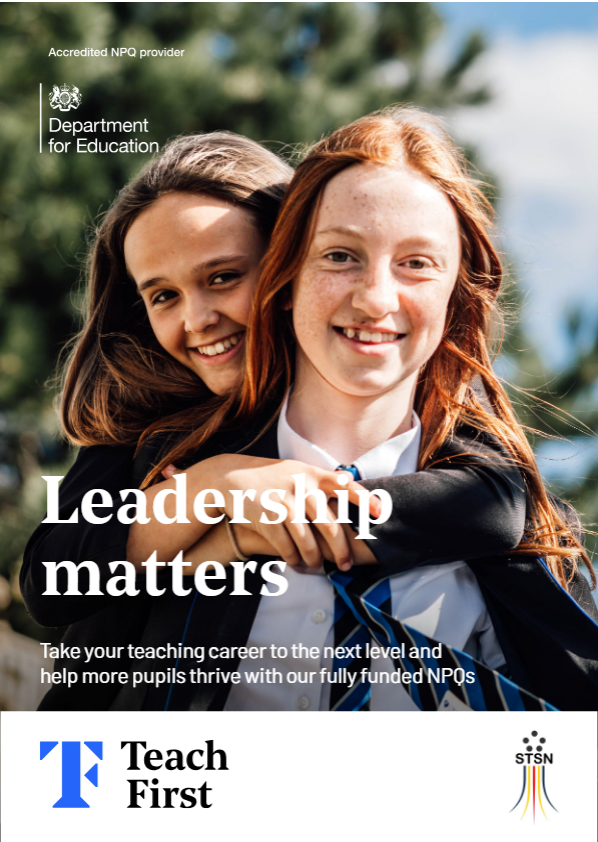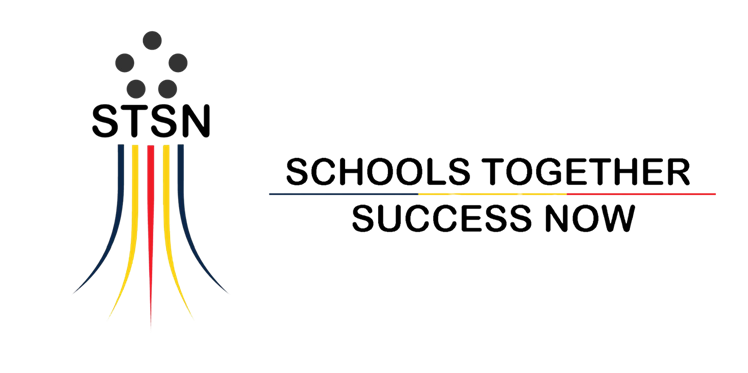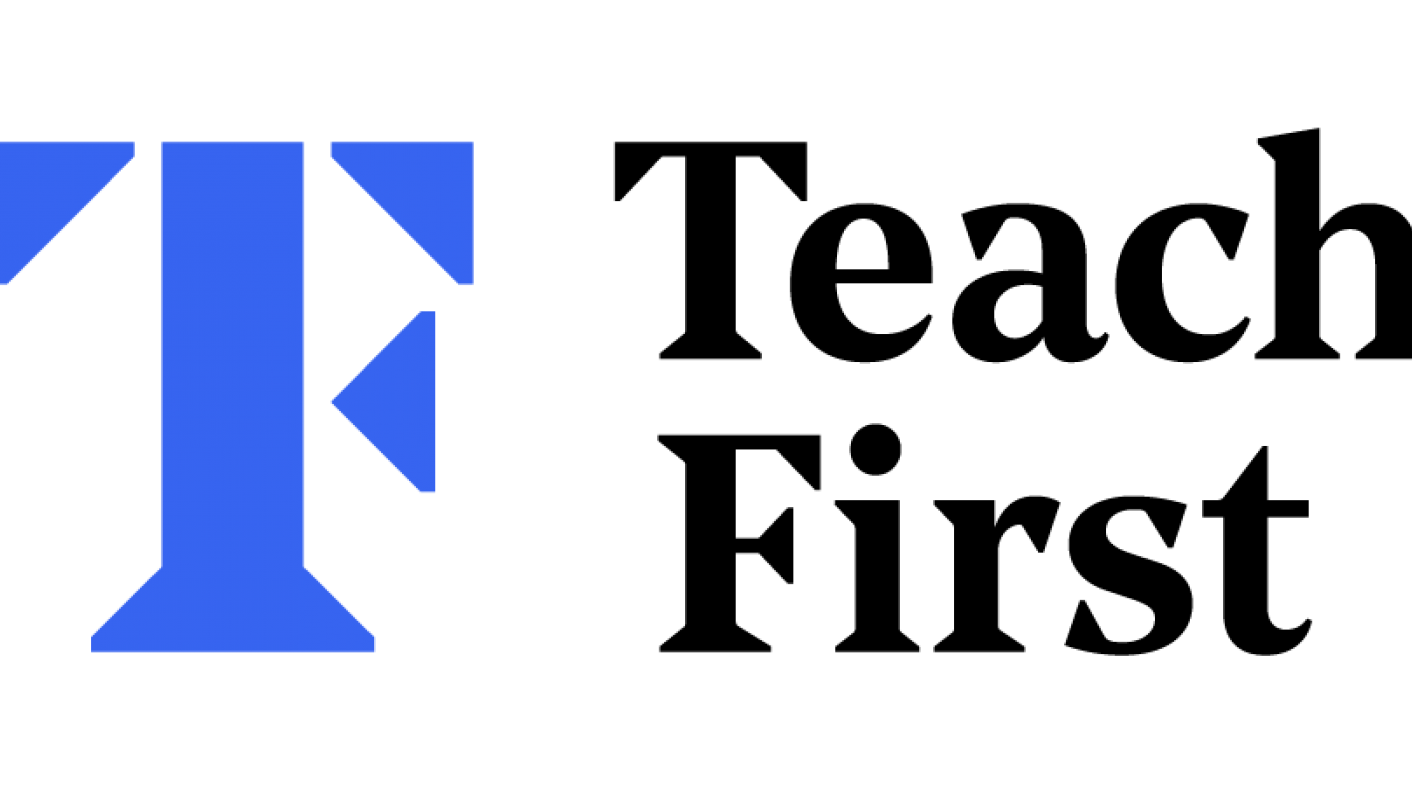 How are NPQs Delivered?
All NPQs are taught through a blended balance of online individual learning, online seminars and face-to-face meetings and a simplified end-of-course assessment. There are two cohorts annually, starting in Autumn and Spring.
We currently have over 1000 teachers and leaders participating across the 8 NPQs and making a positive impact on children's outcomes straight away. Join them by applying for our October or January cohorts.
Apply for our February 2024 cohorts here
Our NPQs support teachers and leaders who want to take the next step on their leadership journey and are motivated to make a difference in their school. Participants will develop core knowledge and skills to prepare them for the long term, as well as gaining the tools, examples and practice to start making a positive impact in their school straight away.
Our programmes are underpinned by some key factors:
High-quality, evidence-led training designed by experts
Strengthening leadership and culture in your school
Broadening and deepening expertise in your specialist area
Flexible training that fits around your schedule and prior knowledge
Free one-to-one support and coaching
Joining a passionate network striving for educational equality