Pay and career opportunities
A career for the future
Get ready and embrace your love of learning as you will be in the best place to do so. Teachers are kept up-to-date with the latest research, innovations in teaching and technology, child and educational psychology, best practice and subject knowledge development.
There truly has never been a better time to get started, with the most ambitious and exciting reforms to teacher development in a generation are already underway. The roots of the government's golden thread of teacher development can be found interwoven throughout initial teacher training before you progress as an early career teacher (the Early Career Framework). Three years of training, support, mentoring and instructional coaching ensure that you have everything you need to flourish as a new teacher.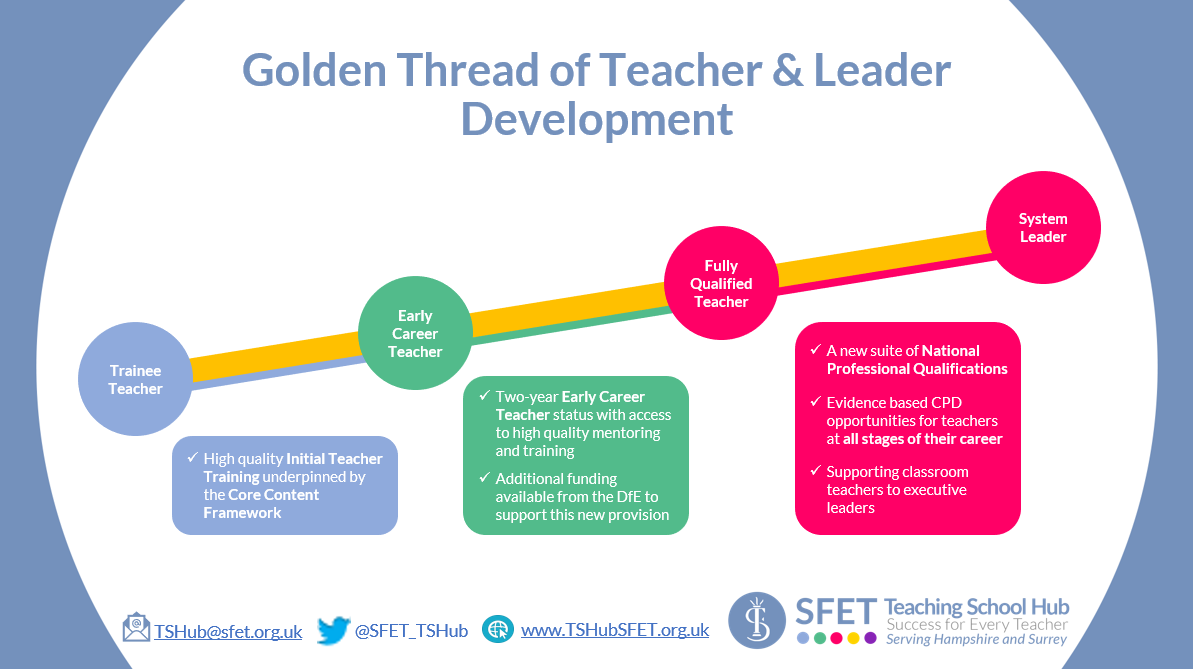 There are many chances for good teachers to climb the career ladder and our suite of specialist and leadership National Professional Qualifications (NPQs) lead on from the induction period.
Schools within the Teaching School Hub area are commitment to the continued professional development of teachers and leaders. Many of the teacher training providers in our Teaching School Hub area work at the forefront of developing this within the Early Career Framework.
A competitive salary and great benefits
You will earn a competitive, secure salary and have access to a wealth of other benefits (professional development, a generous pension and holiday allowance).
Teachers talk about making a real difference to pupils' learning and lives - and the job satisfaction that comes with a career in teaching. Find out how teachers are helping pupils realise their ambitions and enjoying every moment.
You'll start on at least £30,000 (or more in London) as a primary or secondary school teacher in England. Your salary will be reviewed every year, with most teachers moving up the pay range annually. This will depend on your school's performance management arrangements.
A typical teacher with 5 years' experience will earn at least £41,333, or more in London.
You may also receive additional payments on top of your regular salary for taking on extra responsibilities. This could be a one-off payment for a specific project, for example, creating a timetable. Or it might be an extra responsibility attached to your job role, for example, being the head of department. Depending on your responsibilities, you could earn up to an extra £15,690. Your school will determine how much you receive.
The teachers' pension scheme is one of the most generous in the country and includes an employer contribution of 23.6%.
It is a 'defined benefit' pension and is:
based on your teaching salary rather than the amount of money you pay in
registered with HM Revenue and Customs - so your contributions are tax-free
flexible and allows you to take some of it as a tax-free lump sum
You also get other insurance benefits too. Find out more about the teachers' pension scheme.